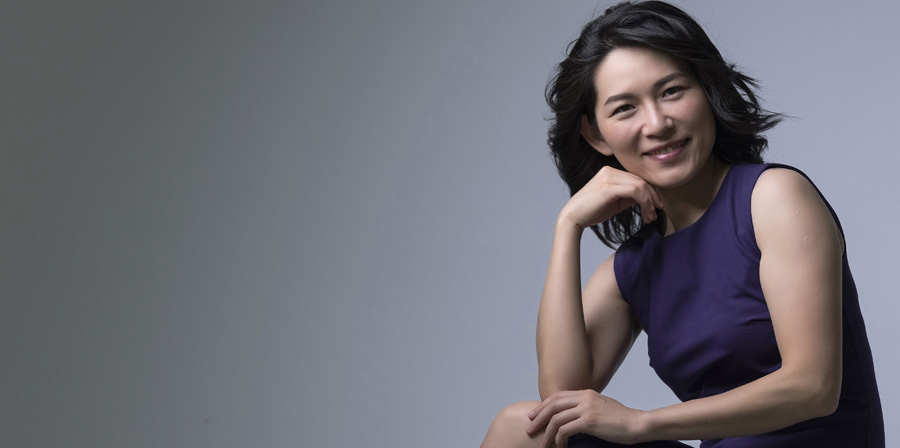 Hsueh-Ching (Mia) Chien
Hsueh-Ching (Mia) Chien, founder of Mia Musica, has 20 years of teaching and performance experience. She is currently a staff accompanist and vocal coach at the San Francisco Conservatory of Music. In the past, she has been the choir director at Hope United Methodist Church, a faculty at the Notre Dame de Namur University and assistant director of Pocket Opera at NDNU.
Before coming to USA, Mia Chien taught piano to gifted students from elementary school to university levels in Taiwan.  She served on the Piano Faculty at the National Taichung University of Education and the Tainan University of Technology in Taiwan. Through her teaching career, Mia's students have won numerous awards and gained admission to top music conservatories.
Mia Chien has studied music and performed in three continents. She graduated from the National Taiwan Normal University (NTNU) and was awarded the Taiwan University Lecturer's Certificate and the Teacher's Certificate. She continued her study with Professor Annekatrin Klein at the Staatliche Hochschule für Musik in Freiburg, Germany and received an Artist Diploma in Piano Performance. Most recently, she studied under Dr. Timothy Bach at the San Francisco Conservatory of Music for a Master's degree in Piano Accompanying and became a staff accompanist at SFCM since 2008.
Mia Chien has won various music awards and scholarships, including gold medals at the National Taiwan Piano Competition, Chin-Hua Piano Competition and the Taichung Citywide Violin Competition, silver medal at NTNU Piano Concerto Competition, and the Chang Ling-De Piano Scholarship. She was also a finalist at the National Taiwan Violin Competition.
In 2012, Mia Chien founded her music studio, MIA MUSICA, and dedicates herself to teaching piano and violin. In addition to techniques, she values finesse, balance and the importance of music interpretation. She wants to bring her unique music philosophy to the next generation of students.

Teaching Philosophy

With 20 years of teaching and performance experience, Mia Chien has developed her unique teaching philosophy. Music is a multidimensional discipline: it's more than a technical skill; long-lasting relationship with music must stem from enjoyment and appreciation. Instead of playing just loud and fast, Mia Chien believes great music is about finesse and balance. Furthermore, setting goals provides the motivation for students to excel. Therefore, students are required to give recitals twice a year and encouraged to participate in CM or ABRSM certification programs as well as local competitions.
At Mia Musica, we build strong music fundamentals, we promote excellence through encouragement and positive reinforcement, and we make music fun, creative and inspiring!
簡雪晴
現任舊金山音樂學院的伴奏老師和聲樂教練。 在台灣期間,曾任教於台中教育大學音樂系、台南女子技術學院音樂系、台中二中、曉明女中、新民高中、清水高中、雙十國中、光復國小等校音樂班。
畢業於國立台灣師範大學音樂系之後,赴歐美留學。獲頒德國 「福萊堡音樂大學」鋼琴演奏藝術家文憑,以及「舊金山音樂學院」伴奏碩士。 曾多次獲得比賽獎項和獎學金,包括台灣區鋼琴比賽冠軍、晶華鋼琴比賽冠軍、台中市小提琴比賽冠軍、張琳德鋼琴獎學金及功學社音樂資優獎學金。並且在美國、 歐洲、以及台灣等地演出獨奏、伴奏、室內樂等不同形式的音樂會。
email: mia.chien.music at gmail.com